Strength
&

Conditioning / Personal Training Services
I offer training services at your residence (condo/shared) gym, your workplace gym or in the privacy of your own home (all equipment provided).I also provide services in a state-of-the-art facility in Toronto — Pure Fitness (Brentcliffe & Eglinton Ave East, in Leaside) 
You will also be provided with a complete program of exercises to do on your own, on "non-trainer" days. These workouts will be tailored to your specific goals & time committments.
Whether its body fat loss, getting a "six-pack", better posture, improving your golf game, stress reduction or training for the Olympics, there is a program especially for YOU – just bring yourself, and your trainer Nanci will take care of the rest!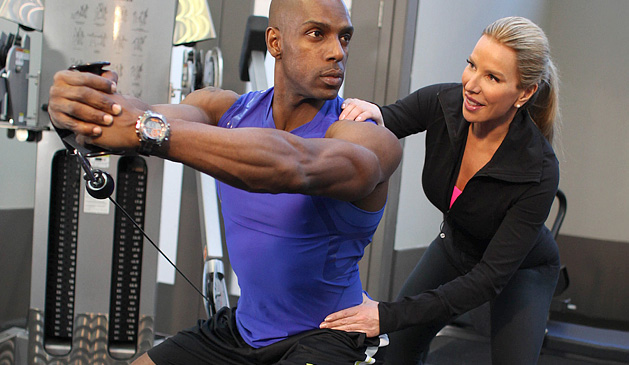 What are your fitness needs?
Athletes looking to improve strength/speed/performance/body comp
Lower body fat &/or gain muscle – as a beginner or an advanced exerciser
Elderly individuals looking to gain or maintain strength, balance, endurance
Recovering from an injury, need exercise supervision
Fitness jump start for a special occasion such as an anniversary, wedding or trip
Pregnancy or post-pregnancy – get your body back!
Prevent chronic disease eg. heart disease, diabetes, osteoporosis, cognitive decline
To feel healthy, energized & emotionally uplifted. Stress Reduction. 
Personal Training.
Personal Training Sessions: In-Home* or other private locations (at your office, club etc).
All equipment will be provided, very little space is needed (e.g. family room, large kitchen, basement or backyard/deck are sufficient)
PARTNER / PRIVATE SESSIONS (prices are PER PERSON)
PARTNER
50 min session 1-2X/week = $55.00 / person
50 min session 3-4X/week = $50.00 / person
70 min session 1-2X/week = $65.00 / person
70 min session 3-4X/week = $60.00 / person
PRIVATE
45 min session 1-2X/week = $95.00
45 min session 3-4X/week = $90.00
65 min session 1-2X/week = $120.00
65 min session 3-4X/week = $110.00
Contact Nanci to discuss the strength and conditioning services best suited to you.