Bootcamp in Leaside (Now also in Collingwood), where outdoor fitness takes over….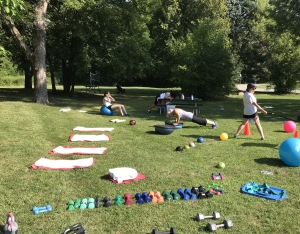 Starting at $30 per session drop-in (always a small group 3-6 people). All fitness levels. **Now in Collingwood
See results fast by training SMART, not LONG! Outdoor bootcamp runs April to December 2021, email for current days/times. Sweat it up in the fresh air. It's fun and a welcome change to the gym. Pay-as-you-go! 
Who Should Join? I have trained all fitness levels for 25 years: 
Beginners to Advanced Fitness Level – all ages. 

Busy Moms

Teens

Seniors

Young or Adult Athletes

YOU are welcome to join!
Light intensity for beginners & heavy-duty for seasoned athletes… & everything in between. 60+ min fun-filled strength/cardio sessions.
Small group personalized training in Toronto's beautiful Sunnybrook park (Leslie & Eglinton) in Leaside. We have taken the gym outside so you can enjoy the fresh air & green surroundings while you get fit! 
My fully-equipped 'Outdoor Gym' includes:
120 cardio-blasting & leg-sculpting stairs (Toronto), 5 sport fields, trails, kettlebells, 25 sets of dumbbells, medicine balls, BOSU balls, TRX, rubber bands & a creative TRAINER so every workout is a surprise 🙂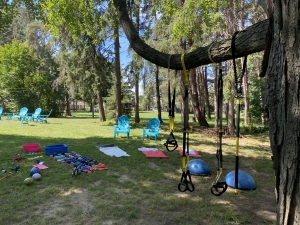 Outdoor Group Fitness Pricing: Investment in YOU 
$110 per person PRIVATE (60 min)

$60 per person PARTNER (2 people; 65 min)

$30-40 per person SMALL GROUP (3-6 people; 65 min)
Gather 3 or more teammates, friends or family members and I'll add a session for you!
Click here to learn about In-Home Training
Bootcamps & Personal Training 7 days most weeks please call for scheduling Nanci 416-873-3312